产品推荐
细胞生物学
酶免试剂盒
细胞因子(重组蛋白)
生化试剂
实验用抗体
分子生物学
蛋白研究
实验室仪器
实验室耗材
技术服务
联系我们
上海研卉生物科技有限公司
地址:上海市嘉定区叶城路1288号
电话:021-69000211
联系人:李先生
手机:18702156455
传真:021-69000211
MSN:yanhuibio@hotmail.com
QQ:1320534253,245676794
邮箱:yanhuibio@163.com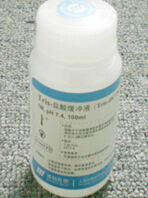 VECTASTAIN Elite ABC Kit (Mouse IgG)
货  号:PK-6102
产品规格:1kit
原 产 地:vector
参考价格:5520 (参考价格,以实际价格为准)
优惠价格:
产品详细信息
VECTASTAIN Elite ABC Kit (Mouse IgG) PK-6102
With more than 40,000 citations to its credit, the VECTASTAIN® ABC kit remains widely popular. Based on the versatile biotin/avidin interaction, the system is modular, and along with our selection of secondary antibodies, can accommodate a wide array of primary antibody and tissue species. Our ABC kits are economical and continue to be a staple product in any immunohistochemistry laboratory.

Peroxidase substrates produce sharp, dense precipitates with crisp localization. These characteristics, in conjuction with the high sensitivity and low background of the VECTASTAIN® ABC systems, make the peroxidase enzyme a preferred choice in many applications. (eg. In neural tissue, the peroxidase system is often preferred because it gives more consistent labeling of both cell bodies and processes.)

VECTASTAIN® Elite® ABC System


Advanced avidin/biotin technology: The Elite® ABC complex is smaller, very uniform, and highly active, allowing more accessibility for binding to a biotinylated target.


Highest sensitivity, low background: The VECTASTAIN® Elite® ABC system is the most sensitive avidin/biotin-based peroxidase system. The Elite® ABC series is approximately 5 times more sensitive than the original VECTASTAIN® ABC Kit with the same low background.


Cost effective: Higher sensitivity leads to lower cost per slide.


Available without ("Standard" kit) or with biotinylated species specific or universal secondary antibodies.


Available in Ready-To-Use (R.T.U.) formats: Prediluted, stabilized working solutions of Elite® ABC Kit reagents provide the same high sensitivity and low background as the traditional VECTASTAIN® Elite® ABC Kit reagents.
Kit Contents:
3 ml normal horse serum

1 ml of concentrated biotinylated horse anti-mouse IgG secondary antibody

2 ml each of concentrated A and B reagents.

Sufficient reagents to stain approximately 500-1000 sections.
Related Products:
VECTOR VIP Peroxidase (HRP) Substrate Kit