产品推荐
细胞生物学
酶免试剂盒
细胞因子(重组蛋白)
生化试剂
实验用抗体
分子生物学
蛋白研究
实验室仪器
实验室耗材
技术服务
联系我们
上海研卉生物科技有限公司
地址:上海市嘉定区叶城路1288号
电话:021-69000211
联系人:李先生
手机:18702156455
传真:021-69000211
MSN:yanhuibio@hotmail.com
QQ:1320534253,245676794
邮箱:yanhuibio@163.com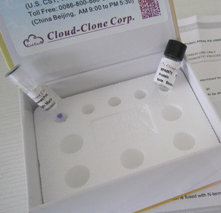 Substance P ELISA kitP物质
货  号:ADI-900-018
产品规格:96T
原 产 地:ENZO
参考价格:4990 (参考价格,以实际价格为准)
优惠价格:3996
产品详细信息
Substance P ELISA kitP物质 ADI-900-018 ENZO
Product Specification
Sensitivity: 8.04 pg/ml (range 9.76 - 10,000 pg/ml)

Assay Time: 3 hours

Application: For the quantitative determination of Substance P in culture supernatants, plasma, serum, saliva, and urine from any species. Cited sample type includes tissue (ref. 1).

Use/Stability: Store all components at 4°, except standard and conjugate at -20°.

Kit/Set Contains: GxR IgG Microtiter plate, Conjugate, Antibody, Assay buffer, Wash buffer concentrate, Standard, pNpp Substrate, Stop solution

Miscellaneous/General: Substance P is an undecapeptide hormone (RPKPQQFFGLM) that mediates a number of biological activities including nausea, anxiety, pain, and vasodilation. It is a member of the tachykinin family of neuropeptides, and is widely distributed in the peripheral and central nervous systems of vertebrates.
Product Literature References